Autumn/Winter 2020/21 Home Color Harmonies
72 trend colors for home, your go-to inspiration. Clearly illustrating which colors can be combined for home products and interior projects. They stimulate and kick start the color choices of you, your team and your clients.
Availability:
In stock
Save time and have fun working with our Autumn/Winter 2020/21 Color Harmonies: 
These colors supply you with an abundance of inspirational options. As a professional in home/interior products and projects, you will recognize the trends and why we call the color groups harmonies. 
The 9 individual color harmonies 'sing together' in whatever combination you choose. Each color group consists of 8 color combinations. Ready for you to start (re)coloring your interior products and projects.
Work with a focused and practical number of colors and color groups and still be able to make lots of different combinations. In theory, up to 2200 color combinations could be made with each Color Concept edition.
Comes in a practical compact size, not a huge coffee table size, so it's easy in daily use at your workplace. With the colorful neoprene sleeve, it is well protected and easy to bring along when you're meeting clients or colleagues or when you visit a showroom or a factory.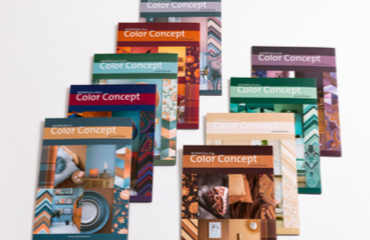 9 Trend Color Folders, with inspiring examples of color use
Pantone TCX color codes and names
Digital Color palettes of all 9 Trend Color groups (sent within 1 working day)
Tutorial for uploading color palettes
Compact and easy in use - Shipping worldwide - VAT will be deducted for non-residential buyers (European buyers, please provide VAT number)
* Color deviations on digital screens and in print may occur and are to be corrected according to Pantone Textile Color System. No part of this publication may be transmitted or reproduced in any form or by any means, electronic or mechanical, including photocopy, recording or any file storage and retrieval system, without prior permission in writing from Astrid Davidse Design. Copyrights of credited images reside with the artist. 
0
stars based on
0
reviews