'
Why this Color Concept
Coloring product designs or interiors is an intense process. Being home fashion designers, we know all about it. Some designers compose color groups with ease. Others have difficulty in choosing or are more expert in making great patterns. And sometimes you just can't be inspired for whatever reason.
More often we simply lack the time for thorough research. Or we can't satisfy the needs for usable colors from expensive but often abstract trend books and reports. Most trend books try to please everyone with everything. Or they need a translation from abstract images and trend colors into practical designs and workable color combinations.
Also clients can be very different in color expectations, taste and knowledge. We all know these requests to come up with designs in new colorways at short notice. "Can we have it tomorrow...?" And then there are sales people who casually mention competitors with great new colors...
Can you imagine how it would feel having an abundance of the right colors at your disposal. In very attractive color combinations. Colorways that will evoke emotions and kick start any color choosing process.
You can now get your specialized home fashion and interior color library of consistent top quality. With inspiring images to help you, your team and your clients to actually enjoy choosing and combining colors. With 2 new editions a year, you can build up your own Home Color Library.
Do you want to know what the Color Tool 'Color Concept by Astrid Davidse' is? Just keep reading: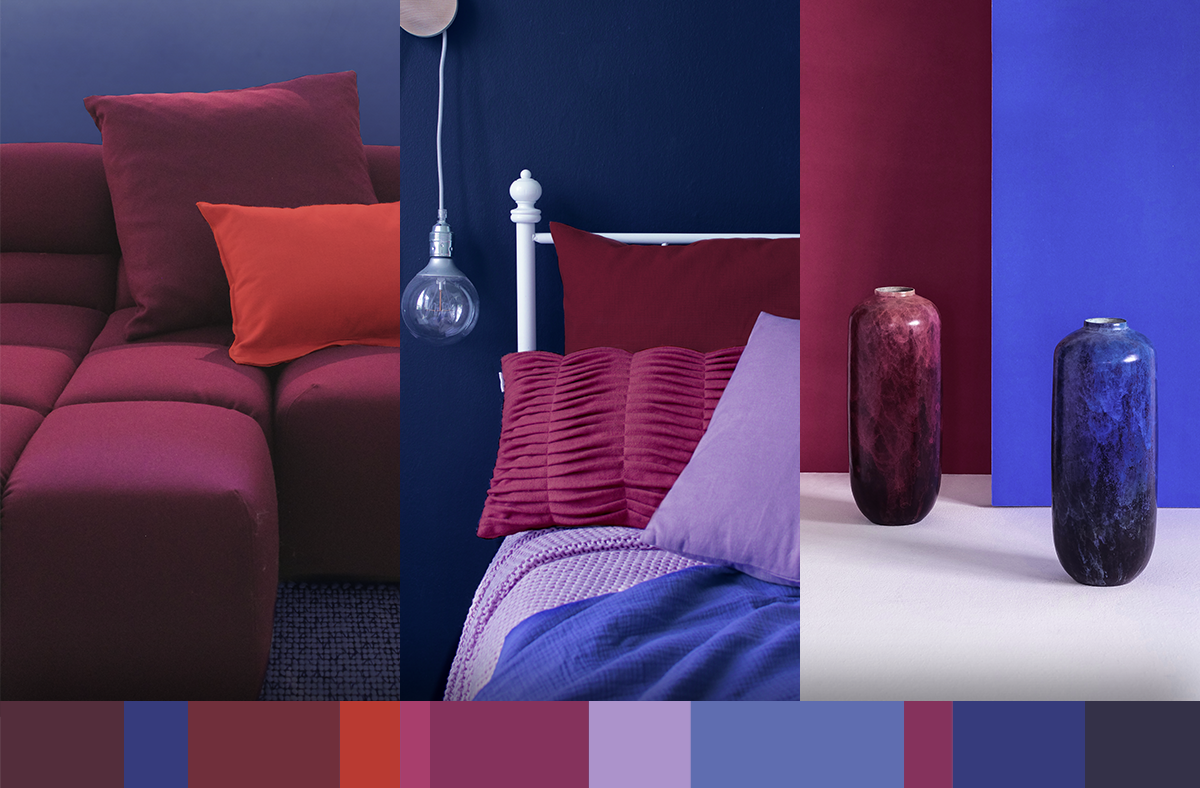 Color Concept 'Violet Night' (Autumn/Winter 2019/2020)
What is the Color Concept Guide?
The Color Concept Guide consists of 9 folded, high quality print works, each with 8 colors. Illustrated by harmonious and inspiring images.
You can see a clear and well rounded story at first glance. In each story you can find the main colors, tonal and contrast colors.
These will help you to create eye catchers as well as a modern or trendy looking combination or a more sophisticated look.
The exact Pantone TCX color codes and names are included.
We also send you the digital files of the Color Swatches to use in Adobe. With this you can start coloring digitally right away.
And if you don't work with Color Swatches yet, then you're in for a treat: you'll also get a step by step tutorial on how to work with Color Swatches.
This will make your design work so much easier and more fun!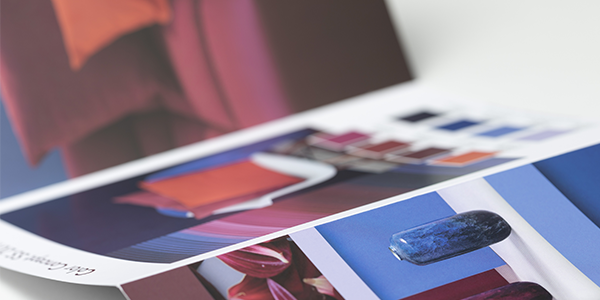 Our Color Concept mathematically gives you up to 247 possible color combinations per color group and more than 2200 color combinations in total. That gives you per season loads of options to make your own wonderful creation. Most color groups can be used to make both soft as more bold combinations, or a soft basis with strong highlights. For example, look at our design in 3 different color groups.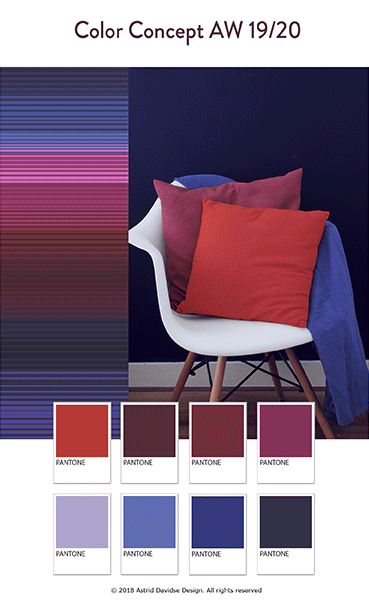 Just to show that all colors in even one color group are easy to combine in very different variations:
Simply put your hand on the blocks, as shown left, and you see four color combinations that work well together but are also distinctive from each other.
With one color combination you can make multiple designs that look different with the same colors by varying in usage of percentages per color.
You an use this method for every colorgroup. It will show you four equally strong colorcombinations.
By varying the amount of use per color it will be easy to create a whole collection. The designs will look different but they will harmonize into a clear story.
Shop Color Concept